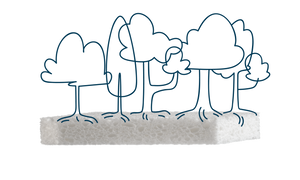 Why plastic-free?
Small things add up, especially when it comes to waste. Unlike plastic that pollutes our water, land, and air, we use natural materials that can be composted and returned to soil. We believe in building circular economies based on the principles of "designing out" waste, keeping materials in use, and regenerating natural systems.
What natural materials do you use?
We sustainably source 100% renewable, plant-based cellulose (a wood pulp), luffa (a gourd), bamboo (a fast-growing grass), and hemp (from the cannabis plant).
Where is everything made?
Our pop up sponges are made in the U.S. from North American wood pulp. Our scrub sponges and dish brushes are responsibly made in China where bamboo and luffa are native plants and have been cultivated for over 10,000 years.
Why are the sponges compressed?
Our compressed sponges require less packaging, storage space, and reduce transportation costs, which minimizes their carbon footprint.
What is your packaging made of?
All of our products and packaging are proudly plastic-free! Our tree-free paper packaging is made from sugarcane fiber that's upcycled from crop waste.
Our starch-based bags are made with a bio-based, biodegradable plastic called mater-bi that's certified compostable at a specialized facility.
What do I do with the packaging?
Our tree-free paper packaging is recyclable, home compostable, and industrial compostable. Our starch-based bags are certified to be industrial compostable.
Check your area for a composter and learn about your state's composting programs. Some natural grocery stores and eco-minded businesses also collect compostable items as well.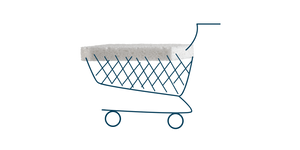 Oops! I need to change or cancel my order, is it too late?
We process our orders quickly but will do our best to accommodate any requests you may have. The best way to make a request is to ask for help.
What if my shipment arrives damaged?
Email us a photo of the damage, showing that the products are unusable, and we'll ship you replacements free of charge. No stress.
What's your return policy?
We're here to help if you're not 100% happy with your order, just let us know.
How do subscriptions work?
If you're like us, washing up is part of your day. You would rather not use more plastic, and for good reason. And you hate the feeling of running out of things, especially when there's a mess. Say no more, we get it. With a subscription, we'll deliver your favorite set or bundle to your door just when you need it, and you'll save 10% in the process. You can always pause or cancel your subscription at any time.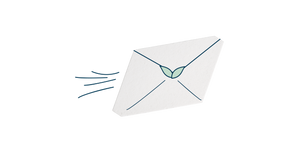 When will my order ship?
We ship all orders with USPS within 1-2 business days and your order should arrive within 3-5 business days. Shipping times may be longer due to carrier delays and weather conditions. Orders received on Friday after 12pm Eastern Time will be processed on Monday so our small team can enjoy their weekend.
Where do you ship to?
Currently, we ship within the Continental US. We hope to expand to other regions and countries in the future. In the meantime, sign up for our newsletter to hear about new stores in your region.
How much is shipping?
Ordering a set or bundle? Free. Ordering more than $24? Free. Everything else? Enjoy $5 flat rate shipping.
What do you use to ship?
We wrap sponge orders in FSC certified tissue and stickers that are printed with soy-based inks, and ship in recycled kraft envelopes. For set orders, we ship in recyclable kraft boxes and compostable crinkle paper.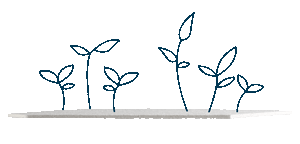 Can I sell Sqwishful in my store?
Absolutely! We partner with natural grocery, zero waste, home, and design stores that share our mission. If that's you, contact sales.
Can I buy Sqwishful for my business?
Yes! We offer bulk pricing for offices, restaurants, and cafes that are looking to create more sustainable and inspiring workplaces. If that's you, contact sales.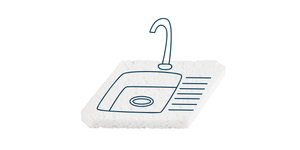 These are, sponges?
Yup! Just run them underwater to pop them up. Use them as you would conventional sponges. Except, they're natural, don't contain plasticizers or glues, and can be composted at their end of life. They're also a joy to look at and use. Shouldn't everything be? We think so.
Why does my scrub sponge curl?
Luffa, when wet, returns to its natural, gourd shape. Processed luffa, or luffa covered with glue, curls less. To avoid processing or using glues, our luffa is sewn together with cellulose, and will hug your hand a bit. Kinda cute tho'.
Where can I use my sponges?
They're great for dishwashing and keeping countertops, sinks, and surfaces clean. A reusable pop up sponge can replace your paper towel roll 30 times over. That's 3,000 paper towels for 1 sponge.
Scrubbers are strong on sticky stuff and soft on non-stick. They can also be used to exfoliate your skin in the shower. Pro-tip: soften your scrub sponge by soaking it in water overnight.
How do I care for my sponges?
After using, rub the sides of your sponge together and give it a good rinse to get out any food. Then squeeze the water out and place it in a dry spot to air dry. Our sponges are top-rack dishwasher safe and will come out looking brand new, but if you don't have a dishwasher, try boiling it in hot water for 5 minutes.
When should I replace my sponges?
Studies recommend replacing your sponge 2-4 times a month, but with proper care, your sponge should last up to one month.
Do I throw my old sponges away?
Throwing your old sponges away destines them for landfill. Instead, cut them up and compost them. Place your sponge scraps in your municipal compost or compost at home. Depending on the condition of your soil, your sponges should compost in one month.
Pro-tip: some natural grocery stores and eco-minded businesses also collect compostable items as well.
Where can I use my brush?
It's great for cleaning pots, pans, or dishes that need a good scrub, thanks to its densely packed bristles that create friction without the need for a ton of force.
How do I care for my brush?
After using, run your fingers through the bristles to loosen and rinse out any food. Then give it a good shake and hang to air dry. You can also try placing it upright in a cup or holder.
When should the brush head be replaced?
With proper care, your brush head should last up to one month.
How do I replace the brush head?
When the brush head is ready to be replaced, gently unscrew it and twist on a new one. Just be careful not to screw the brush head on too tight or it will damage the thread. Save and reuse the handle forever.
Do I throw my old brush head away?
Instead of sending your old brush head to landfill, compost it, add it to a campfire, or even place it in your yard. While it may take time, the brush is 100% biodegradable.