true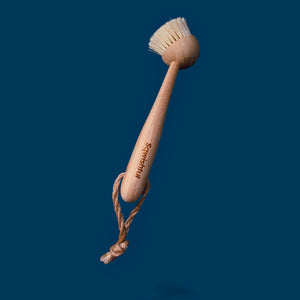 Wash up with a wave of our greener, bamboo dish brush.
Sqwishful dish brushes are 100% plant-based and made from natural bamboo, sisal, and hemp with zero plastic or varnish.
Brush it off.
Ideal to give your pots, pans, and dishes a good scrub. Thanks to its densely packed bristles, your dish brush gets the job done without the need for force. After using, run your fingers through the bristles to loosen, and rinse. Then give it a good shake and hang to air dry. 
Twist and shout.
When the bristles wear out, waste not. Gently twist on a new brush head and save and reuse the handle forever. Instead of sending your old brush head to a landfill, compost it, add it to a campfire, or even place it in your yard. While it may take time, the brush is 100% biodegradable.
Award-winning.
We're honored to be awarded Treehugger's Best of Green Cleaning Award. Paneled by The Spruce u
sing the Environmental Working Group's Guide to Healthy Cleaning as their gold standard, we're proud to be 1 of 30 winners who earned this esteemed award.